Tips from the Trade: Using Mosaics On the Floor
February 2, 2017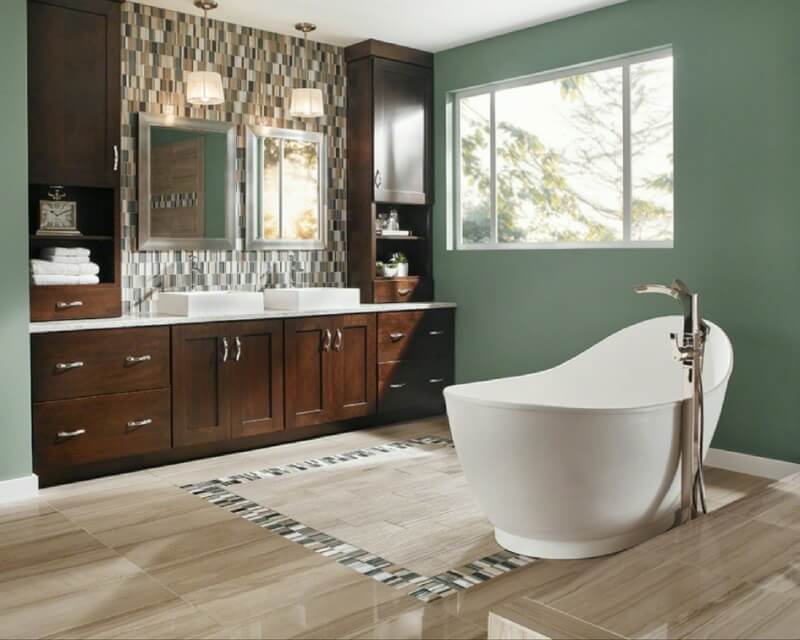 The floor is a fantastic place to add a decorative element to any room, and one way to achieve this artistic look is to choose mosaics as your floor tile. Whether your mosaic of choice is composed of natural stone or porcelain, these smaller pieces pack a strong punch and are just as sturdy as larger format tiles.
If instead of using a mosaic tile accent, you're covering the entire floor with mosaics or installing a section for a rug-like look, it's important to choose the right style and pattern. After all, you don't want your room to feel overwhelmed with a mosaic installation. With that in mind, here are six spaces featuring mosaic floor tile that we're sure you'll love.
Haute Couture Herringbone
Featured: Greecian White Herringbone Marble Tiles
This super chic, spa-like bathroom is a place anyone would want to relax in. The soothing color palette features a variety of muted tones, including white, gray, tan, and a light sage. The sleek, minimalistic design allows the floors to take center stage!
These Greecian White Herringbone Marble Tiles are made of polished white marble with variations of smoky gray. Overall, the high-style pattern gives this spacious bathroom its high fashion character.
Pebble Perfection
Featured: Black Meshed Pebbles
If you want to bring the outdoors in to your bathroom, then this is a perfect way to do it! This ultra modern tub is framed by Black Meshed Pebbles that are installed with a light-colored grout. The tumbled finish of the pebbles gives a contemporary, yet rustic edge to this design, while the surrounding wood tones add warmth to the space.
Who wouldn't want to soak in this Zen-like bath, especially if you have a great view full of greenery!
Classic Octagon
Featured: Greecian White Octagon Tiles
Opting for black and white is an excellent choice if you're after a design with timeless elegance. This bathroom not only features Greecian White Octagon Tiles on the floor, but they are also continued throughout, on the shower floor and as a custom shower niche accent. The white and gray marble with small black accents infuses the space with just the right amount of pattern, but without overpowering the soft color scheme.
Contemporary Combo
 Featured: Paradise Bay Blend Mosaic Tile
If you tie your mosaic floor in with other design elements of a room, you end up with a standout design. This bathroom features backsplash tile in Paradise Bay Blend Mosaic Tile that's also used as a colorful border on the floor.
The different widths of the tile and the blending of natural stone with glass create a contemporary combination. The mixture of warm and cool colors plays off of the rich cabinets, neutral flooring, and vibrant wall color.
Timeless Basketweave
Featured: Greecian White Basketweave Pattern
Greecian White Basket Weave Pattern, surrounding the toilet in the photo above, is a beautiful marble mosaic composed of soft whites and gorgeous grays. While the pattern leans toward a classic, traditional design, the lighter colors allow these natural stone mosaics to blend in with a variety of styles.
Dramatic Basketweave
Featured: Emperador Light and Dark Basketweave
Emperador Light and Dark Basketweave is an eye-catching basketweave pattern that is commonly used in smaller flooring sections. This bathroom, for example, features a rug-like area using the brown, gray, beige, and cream marble. The area is then framed out for emphasis by a darker tile, grounding the design and adding drama to the larger space.
When it comes to adding a mosaic tile to your design, you are only limited by your imagination. Cover an entire floor or wall, use mosaic to create a framed out Roman bath vignette on the floor, or create an accent that pops in your design.