Tips from the Trade: A Quick Guide To Marble Countertop and Tile Maintenance
February 2, 2017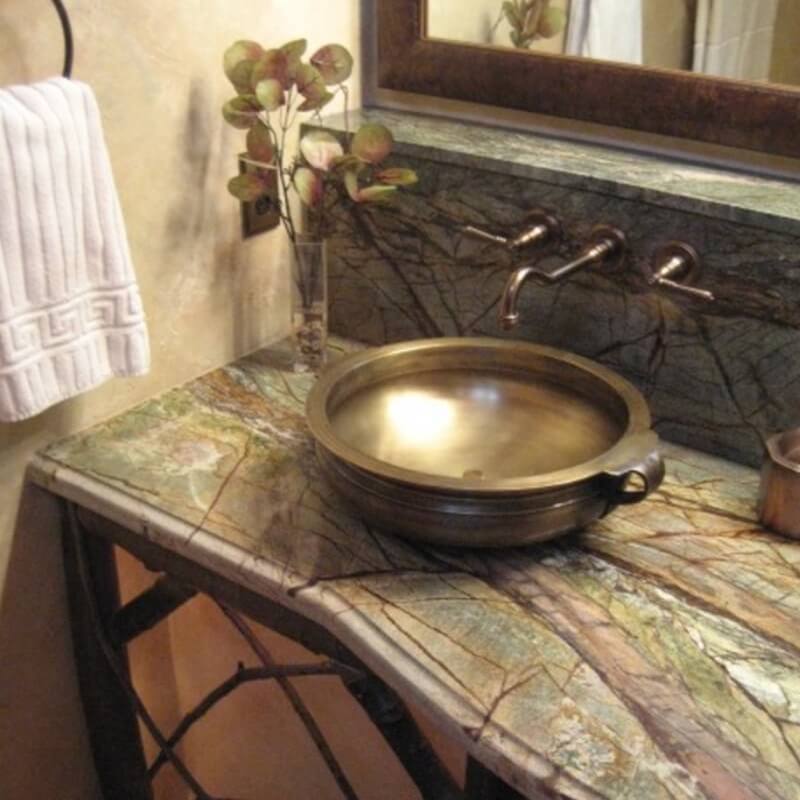 In the world of natural stone, marble is the beauty queen. Classic, elegant, and sophisticated, it continues its reign as one of the most popular surface materials within the home. Although marble is a natural beauty, this queen's surface needs a bit of maintenance to look its best, and keep those good looks for years to come!
Whether your marble is in the form of a marble countertop or individual tiles, you'll want to follow this guide to caring for your marble.
Countertop Daily Care
Featured: Rain Forest Marble
Caring for marble slabs isn't difficult, but you should remember a few day-to-day routines. Protect your marble by using coasters under all glasses, especially those with citrus or alcohol. Avoid placing hot dishes directly on the counter surface – use a trivet or hot pad.
In the bathroom, use a decorative tray underneath soaps and cosmetics to avoid contact with the marble countertops. Wipe up spills of any liquid immediately, and only use mild soap and a soft cloth for cleaning.
Tile Floor Daily Care
Featured: Statuary Venato Marble
Marble flooring adds true luxury to any room, and though it has a few special needs, the look is well worth the effort. Use slip-resistant floor mats to catch dirt and moisture that may be tracked in from the outdoors.
Rugs placed in high-traffic areas prevent damage over time. Clean frequently with a dry, soft dust mop to remove any grit that may scratch the marble's surface.
As with any marble countertop, clean any spills immediately using a mild soap product.
Sealing
Featured: Calacatta Gold Marble
Applying a sealer to your marble is an optional step. Although it will not make your fine Italian marble countertops tough and indestructible, it does offer some protection against stains.
When choosing a sealer for kitchen countertops, make sure it's safe for use around food preparation areas. For best results, sealer should be applied at least once a year. Lighter color marble, such as Calacatta Gold Marble pictured above, requires sealing more often than darker marble.
Things to Avoid
Featured: Fantasy Brown Marble
• Anything that may scratch the marble, such as dirt, dragging furniture, vacuum cleaners with rough and worn wheels
• Preparing food directly on the marble countertop
• Liquids containing acid, including lemon juice, vinegar, catsup, tomato sauce, orange juice, soft drinks
• Household cleaning products containing acids or ammonia
• Cleansers containing abrasives
• Excess weight in one spot, may cause cracking
Emergency Care
Featured: Crema Marfil Marble
Most "marble emergencies" involve stain cleanup. No matter how careful you are with your marble surfaces, spills and drips happen.
Here's a quick list of common stains and how to treat:
• Oil-based – clean with mild dish detergent.
• Coffee, tea, many foods – wipe immediately; remove stains with 12% hydrogen peroxide.
• Mildew – clean with bleach or ammonia (never mix these); use a ratio of ½ cup to 1 gallon of water.
• Ink – clean with hydrogen peroxide on light colored marble, acetone on dark colors.
• Paint – gently scrape with a razor blade.
• Scratching or etching – consult a restoration professional
Although this list of instructions may seem intimidating at first, marble care and maintenance just requires some common sense. The longer you live with your marble surfaces, the more these guidelines will become routine habits. Most homeowners with marble countertops or flooring would agree – the queen of natural stone is well worth a little extra TLC.